What are typical causes of High Blood Pressure?
The causes of high blood pressure can be very diverse. High blood pressure can be related to life circumstances and lifestyle, advanced age or even pre-existing conditions. In order to get to the bottom of high blood pressure, cardiological diagnostics and a detailed medical history discussion with a holistic cardiologist, among other things, are helpful.
In my private cardiology practice in Berlin Mitte, the treatment of high blood pressure is a very frequent topic. Many patients ask about the causes of high blood pressure in order to find out why they are affected. In this blog post, I would therefore like to focus on the typical causes of high blood pressure and provide you with the best possible information in advance.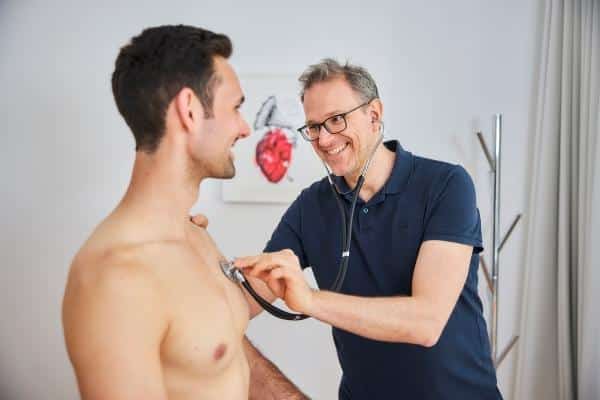 Where does high blood pressure (hypertension) actually come from?
In order to answer this question, it is important that we distinguish between two forms of hypertension, primary hypertension and essential hypertension (high blood pressure).
Primary or essential hypertension as a lifestyle or civilisation disease
Primary or essential hypertension is the most common form of high blood pressure (approx. 90-95% of cases). It is caused by certain risk factors such as a family tendency to high blood pressure (hereditary predisposition), obesity, lack of exercise, increased salt consumption, high alcohol consumption, an overall unhealthy diet, smoking, stress, advanced age and certain medications (painkillers and rheumatism medicines). As a result, blood pressure is one of our lifestyle and civilisation diseases.
Primary or essential hypertension seen psychosomatically
From the perspective of psychosomatics, we become ill with hypertension when "we are under pressure" or are exposed to very high levels of stress, which we can no longer sufficiently counteract or prevent ourselves. It is not uncommon for very slim and athletic people to present to my cardiology practice with a hypertension condition, which at first glance seems puzzling. On closer examination, a cause can usually be identified, which can be classified primarily as psychosomatic. Since high blood pressure often occurs in families, genetic causes and also the adoption of maladaptive strategies in the family context (lack of coping strategies in dealing with stress and conflicts, eating habits, etc.) are discussed.
Secondary hypertension
We speak of secondary hypertension when a clear somatic cause for the high blood pressure can be identified. Compared to primary hypertension, this is much rarer (approx. 5%). Diseases of the kidneys (vessels) or thyroid gland, sleep apnoea syndrome (OSAS), hormonal diseases or certain medications can cause this form of high blood pressure. Especially in young people or in patients with an unusually high need for medication, this form should be considered. An ultrasound examination of the abdomen including imaging of the kidney (arteries), special laboratory tests and sleep apnoea screening are diagnostically helpful here.
Does a corona infection promote hypertension or high blood pressure?
In times of the corona pandemic, patients increasingly ask whether there is a connection between a new hypertension and a recent covid illness. It seems questionable whether the newly diagnosed hypertension is caused by an infection that has been lived through, or whether it is rather the current, manifold stresses of the pandemic and its tangible consequences that are responsible for an increased general feeling of pressure. In any case, a small study from 2021 was able to establish a connection between lockdown and increased blood pressure. 1
Dr. Markus Moser, MD comments: "In general, the clinical picture of hypertension must always be considered on a case-by-case basis. Every person is individual. Therefore, the diverse consideration of possible causes and the life situation of the individual is indispensable for the therapeutic procedure."
By the way: In my cardiology practice in Berlin Mitte, I use the SOMNOtouch™ NIBP long-term blood pressure device. It is cuffless and very easy to use. Just book it via the Doctolib online appointment. You can easily take the measurement at home and return the device the next day.
1 Laffin, L., Kaufman, H., Chen, Z., Niles, J., Arellano, A., Bare, L. and Hazen, S. (2021). Rise in Blood Pressure Observed Among US Adults During the COVID-19 Pandemic. Circulation 2022 (145), 235-237.