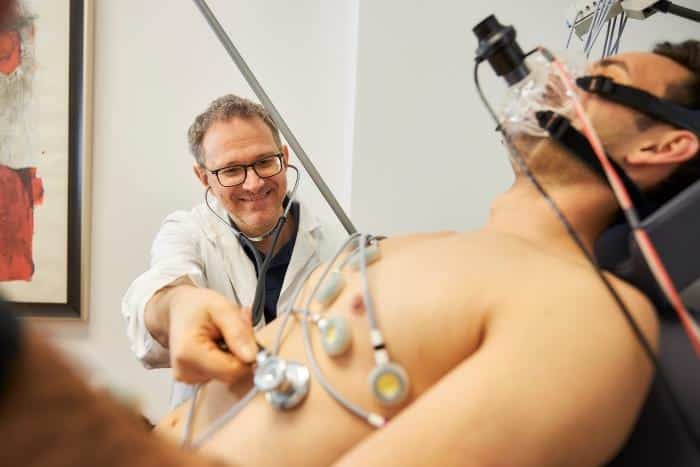 What does Cardiac Diagnostics mean?
The basic cardiological examination or also called basic diagnostics comprises various examination methods, which are carried out with the help of the most modern, high-end medical technology, among other things. The aim of cardiac diagnostics is to determine the health of the heart and to detect possible cardiovascular diseases in good time.
Examination options in Cardiac Diagnostics
In addition to the ECG (electrocardiogram, which records the activity of the heart muscle fibres) and the ultrasound examination of the heart (echocardiography), the electrical heart currents are measured, among other things. All the results of these initial heart examinations, which are all painless, serve as the basis for the discussion that Dr. Moser will have with you after the examinations. All in all, a wide range of examination options are available for cardiac diagnostics. These are used in a differentiated manner depending on the symptoms, anamnesis, and initial diagnosis:
ECG
Blood Pressure
Echocardiography / Stress Echocardiography
Long-term ECG & blood pressure without cuff 
New: SOMNOtouch™ NIBP
 Sleep apnoea screening
Lung function
Laboratory diagnostics
Cycling ergometry
Spiroergometry and performance diagnostics
Myocardial strain analysis
Neck vessels Ultrasound
What is the procedure in the private practice of Dr. Moser, MD?
Dr. Moser, MD takes the necessary time to inform you comprehensively and to answer your questions.
Dr. Markus Moser, MD is a specialist in internal medicine, cardiology, anaesthesiology and emergency medicine, and has additional qualifications as a cardiovascular preventive physician and psychocardiologist. He looks after you holistically, highly individually and with great empathy.
You are in the best hands with him.
After the first appointment, the further course of action will be discussed and determined. Further cardiological examinations, a new appointment or a refresher appointment may be necessary.
You would like to get to know Dr. Moser, MD first, have a question in advance or need a second opinion? Then you can also use our video consultation, daily from 4.00 pm. Click here to make an appointment.