Sleep Apnoea Screening / Polygraphy at home
Sleep apnoea syndrome involves pauses in breathing during sleep. If you notice that you snore frequently and loudly and have possible pauses in breathing during sleep, these may be signs. To check for possible sleep apnoea, you can easily have a screening, a polygraphy, at home.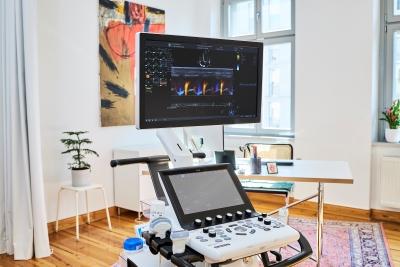 The process of a home sleep apnoea screening:
You borrow the polygraph machine (a small device) from us and do the sleep apnoea screening at home.
The polygraphy device records certain functions during sleep and creates a screening. (My private cardiology practice uses the "Samoa" polygraphy device from Löwenstein medical).
The next morning you bring the device back to the practice for evaluation.
We discuss the further procedure.
You can easily book your sleep apnoea screening appointment via Doctolib.
You can also read more about the causes, symptoms and treatment options of sleep apnoea in our blog.
If you are planning a check-up anyway, you can also book polygraphy, the sleep apnoea screening, as an additional module.