Check-up and Preventive Medicine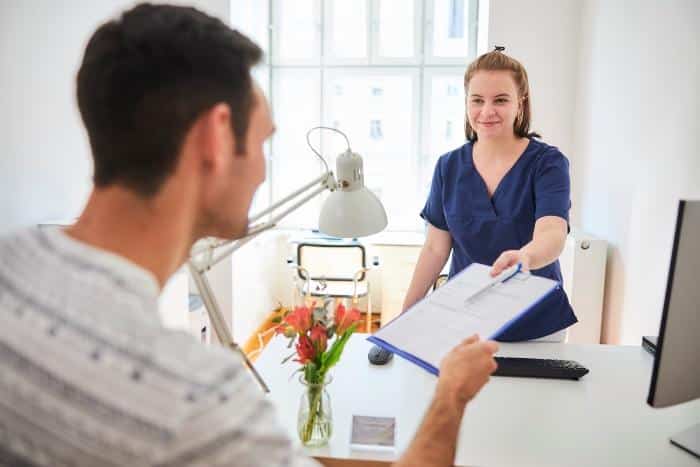 Check-ups and preventive medical examinations are important preventive health care and serve to detect possible diseases as early as possible. Regular check-ups, approximately every two years, help to prevent diseases from developing in the first place.
The following information informs you about our approach to check-ups and preventive medical examinations, with the aim of providing you with the most holistic and individual care possible. You can also navigate directly to the individual topics:
The Check-up Concept
The aim of preventive medicine is to detect diseases ideally before they develop and manifest themselves by means of a check-up in my Berlin cardiology practice, and to promote health in equal measure. Here, my trained eye as a preventive physician and psychocardiologist can be extremely helpful in determining a comprehensive picture of your current state of health through targeted, diagnostic questions and apparative examinations.
The focus is on taking individual measures together with you as the doctor-patient team in order to promote health and prevent illness. An important part of every check-up or cardiological screening is therefore a summary of the results with the resulting lifestyle advice to be able to accompany each patient individually.
The trick is to use Diagnosis tailored to the patient, which on the one hand records the respective risks and conspicuous findings and on the other hand includes the personal psychosocial needs of the individual patient. Our approach to a cardiological screening corresponds to the philosophy of the bio-psycho-social model. Therefore, the concept of the check-ups offered is based on a modular model to meet the individual needs of each patient.
The Check-up Modular System
The basis of every modular system is the basic check-up. This module of preventive medicine screens the most important body systems and serves as an ideal entry-level instrument for those who are curious about health or preventive medicine. If necessary, this can be used as the basis for an individualised cardiological preventive check-up with other different modules.

Dr. Markus Moser, MD informs:
"The additional modules can be chosen in advance at your discretion. We are always available to advise you on these topics. Please allow approx. 3-5 hours for a check-up. Taking your time is our priority: time dedicated solely to your health, in the spirit of prevention! At the end of this information text, you can request a call-back to make an appointment or consultation or request a cost estimate."
The Basic Check-up  
The basic package is a good all-round or entry-level package for health-conscious patients from about 30 years of age. A comprehensive overview of the essential organ systems is elicited, including a stress medical test that reveals current psychological work stress.
The basic Check-up includes:
Prevention medical history interview
Stress medical history
Vaccination advice
Physical examination
Laboratory under preventive medical aspects incl. stool sample (from 40 years),
man: PSA test
Blood pressure measurement
ECG at rest
Bioelectrical impedance analysis (body scale) 
Pulmonary function with oxygen saturation
Ultrasound of the abdominal organs (pancreas, liver, abdominal vessels, gall bladder, kidneys, spleen, urinary bladder), man additionally prostate gland
Exercise ECG (ergometry)
Final discussion with counselling
Report of findings
Additional service: Thyroid ultrasound

Costs:
Basic check-up from 669,40 EUR
Additional service thyroid ultrasound from 65,24 EUR
PSA value 20,11 EUR

Additional module cardiovascular check-up
A possible additional module to the basic check-up is the cardiovascular check-up. It is useful for patients over 50 years of age or for patients with existing cardiovascular disease (high blood pressure, coronary heart disease after stent implantation or bypass surgery, heart stuttering, shortness of breath on exertion, etc.).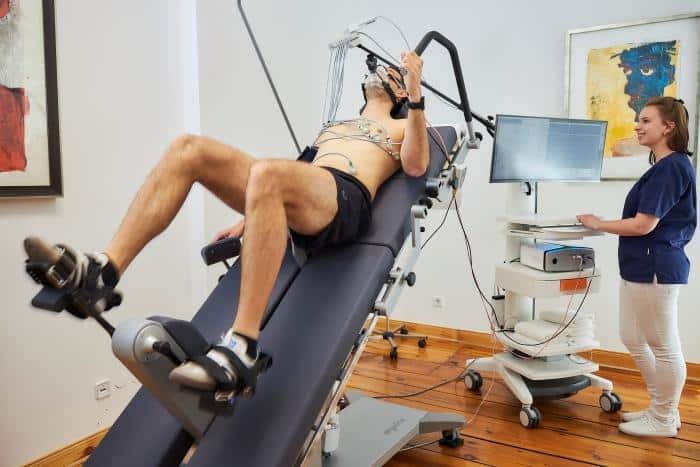 In addition, this module can be helpful for patients with an increased risk of cardiovascular diseases (e.g., high cholesterol, increased uric acid, smoking, diabetes, family history of cardiovascular diseases, increased stress in professional and private life). The additional cardiovascular module includes:
Echocardiography
Additional service: Spiroergometry instead of ergometry in consultation with Dr. Moser, MD

Costs: Additional Module
module cardiovascular check-up 230,47 EUR
Additional service long-term blood pressure measurement and ECG 232,12 EUR
Additional service spiroergometry from 139,46 EUR
Additional service stress echocardiography from 268,11 EUR
Additional Module Vascular Check-up
In preventive medicine, this module serves as additional information for the stratification of patients at risk for a heart attack or stroke (massively elevated cholesterol in the blood, possibly also a history of smoking, diabetes, high blood pressure, etc.). The imaging of the vessels can already show any pathological changes. This in turn helps in the further therapeutic procedure (lifestyle changes and/or drug treatment). The additional module Vessels contains:
Ultrasound of the carotid arteries
Ultrasound of the pelvic vessels incl. aorta
Costs:
Additional module Vascular Check-up from 193,78 EUR
Sleep Check-up add-on module
Sleep disorders are very common in today's modern world. We distinguish between falling asleep and staying asleep. Another health-threatening condition that affects sleep is sleep apnoea syndrome. In this case, breathing stops during sleep, which can lead to high blood pressure and other complications. In addition, this less restful sleep also makes itself felt in daytime tiredness. A polygraphy, a so-called sleep apnoea screening, is used to measure these breathing pauses during the night. The device is taken home and evaluated afterwards. The additional sleep module includes:
Polygraphy (sleep apnoea screening)
IMPORTANT:
Please note that the various check-ups and cardiological screening examinations are usually only partially covered by private health insurance companies due to the extent of the examinations and the time involved. Billing is based on the GOÄ as a fee-based service. Please contact us for this; we will be happy to prepare a cost estimate for your private health insurance or as a self-pay service.
Ask for your personal CHECK-UP now!